At The Dixie Grammar School we take great pride in the Charity work we do. The emphasis is to involve our students to help them empathise with those less fortunate. We also encourage students to offer their ideas with regards to which charities the School fundraises for. Alongside this we take part in the Lions Award Young Person in Service award, which recognises the efforts students put into helping others.
Macmillan Cancer Support
A number of staff are participating in the national 100-a-day challenge, completing 3000 squats, press-ups or sit-ups in November in aid of Macmillan Cancer Support. If you would like to donate, please visit our Just Giving page here.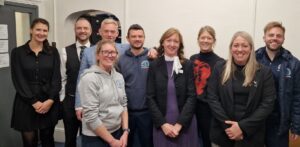 Examples of some other charities we have helped include:
Hinckley Foodbank
Hinckley Foodbank is run by a partnership of 7 Churches in Hinckley and Barwell led by Hope Community Church. This local Charity is committed to providing non-perishable foodstuffs for families through a system of vouchers as well as trying to help people deal with their long term problems. The Dixie has now been supporting this Charity for two years as part of our celebration of the Harvest Festival. This year we donated 152.8kg of food, which is worth £256.70, enough food to feed 14 small families.
Air Ambulance
The Air Ambulance Service is a Charity which aims to save lives and improve patient outcomes by way of rapid response to trauma and medical emergencies, and by any other appropriate means provided free of charge, whenever and wherever there is a need using their two Helicopter Emergency Medical Services (HEMS), and through providing an emergency helicopter transfer service for critically ill children and babies. The Charity receives no government funding and so relies on the services of volunteers and donations to help raise the necessary monies. Students chose to support this Charity through a non-uniform day and raised over £400.
Lepra
Lepra is a charity which was originally set up to fight against the Lepra disease in 1924. 90 years later, they now work not only to help people affected by leprosy, but also other neglected diseases such as lymphatic filariasis. The year 6 and 7s raised £645.03 through sponsorships, which was enough money to help Lepra provide the medical care to 25 children.
Christmas Toy Appeal
For the last few years the school has supported the Salvation Army Christmas Toy appeal. Students are encouraged to bring in one or two new toys or gift sets which are distributed by the SA to underprivileged children throughout the Hinckley area. Previously, we have also sent baby necessities to the Leicester-based Baby Basics appeal and for many years sent shoeboxes filled with small gifts to the Samaritan's Purse Christmas appeal for children in poor or developing countries. We have also sent money to the Send a Cow charity to help families to get started on self-sustaining projects such as growing their own crops and breeding animals.
Joe Humphries Memorial Trust:
The Joe Humphries Memorial Trust is a Charity set up by this young man's parents after he tragically and suddenly died due to a illness which affects young people known as Sudden Arrhythmic Death Syndrome (SADS). The Charity is committed to raising awareness about SADS. The School raised over five hundred pounds.
Lions Young People in Service Award:
This is a scheme which the School partakes in which recognises the work carried out by young people to help their communities. The students can achieve a Silver Award after completing 50 hours of service, or a Gold Award after completing 100 hours of service. Participants have a year to accrue their hours which they must record in their logbooks and have signed off by the relevant parties.