"Pupils display high levels of initiative in many lessons, especially in the sixth form [and] older pupils take on numerous leadership opportunities in school."
ISI Inspection Report 2022
Whether they have been with us since Pippins Nursery, joined us for Year 7 or started the Dixie in the Sixth Form, we are immensely proud of every Sixth Former here at the Dixie Grammar School.  In the final two years of their schooling, we witness them blossoming into mature, independent and capable young adults who take a growing lead in all areas of school life and are set to succeed not just in their examinations, but well beyond them as well.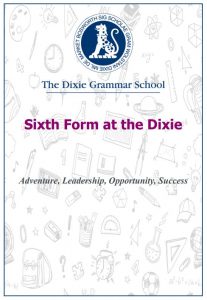 This success is a result of a number of key elements of being a pupil at the Dixie Grammar School.
Our small class sizes allow a good rapport to develop between teachers and pupils within and beyond the classroom, allowing individuals to flourish in their learning. Pupils are known to their teachers and their tutors as individuals and as such can be provided with tailored guidance and support. We offer a wide range of subject options and cater for as many subject combinations as possible.
Personal tutors meet with pupils to discuss academic progress and to monitor their work-life balance. Staff are supportive and the short lines of communication within the school are always open to encourage regular discussion about pupils' academic performance. Any issues are flagged up early and dealt with in a proactive manner.
Regular reporting, both formal and informal, keeps parents informed on academic progress through written and face-to-face communication.
We have high expectations of our pupils. We aim to instil an enthusiasm for independent learning, equipping pupils with the motivation to innovate and research for themselves, rather than simply being able to memorise and regurgitate syllabus material.
For all queries, including students not currently at the Dixie who would like to request an application form, please complete the contact form below. Alternatively please call us on 01455 292244 or email registrar@dixie.org.uk.
"Pupils feel confident about making decisions on course selection and the next steps in their education because the school provides excellent information and guidance, and supports them effectively in making these decisions."